May 2014 Face-to-Face Meeting
This PWG meeting will be held on May 13-15, hosted by Apple at their facilities in Cupertino, CA:
10500 N. De Anza Blvd.
Cupertino, CA 95014
[map]
A light breakfast and lunch will be served each day.
All sessions will be held in the "Beatles" conference room in De Anza 3. It is located just past the vistor's desk in the lobby.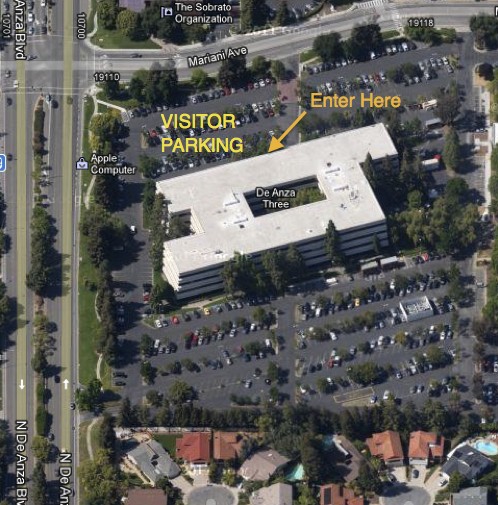 There is no registration fee for this meeting.
Please respond to the PWG May 2014 face-to-face meeting survey whether you are planning to attend the meeting in person, by phone, or not at all. This will help us plan for services and make any necessary reservations.
Conference Call Information
Call-in toll-free number (US/Canada): +1 866 469-3239
Call-in toll number (US/Canada): +1 650 429-3300
Call-in toll number (US/Canada): +1 408 856-9570
Attendee access code: (by request only)
WebEx Information
To join the online meeting:
Go to

ieee-isto.webex.com

https://ieee-isto.webex.com/ieee-isto/j.php?MTID=ma817836373f366c54d71cee25615e0f7
If requested, enter your name and email address.
If a password is required, enter the meeting password: Printing123
Click "Join".
Note:

All times are local to the venue.

Discussions at PWG face-to-face meetings are covered by the PWG Policy on Intellectual Property and Confidentiality - basically everything we discuss is non-confidential and can be included in an open standard.
Date
Times
Description
May 13
8:30 AM to 9:00 AM
Breakfast
9:00 AM to 10:00 AM
PWG Plenary (Slides)
10:00 AM to 10:15 AM
Break
10:15 AM to 12:00 PM
Cloud Imaging (Slides · Model)
12:00 PM to 1:00 PM
Lunch
1:00 PM to 2:00 PM
Cloud Imaging (con't)
2:00 PM to 2:15 PM
Break
2:15 PM to 5:00 PM
IPP (Slides · IPPSIX · Implementor's Guide 2.0)
May 14
8:30 AM to 9:00 AM
Breakfast
9:00 AM to 12:00 PM
Semantic Model (Slides · JDFMAP)
12:00 PM to 1:00 PM
Lunch
1:00 PM to 5:00 PM
Semantic Model (SM 3.0)
May 15
8:30 AM to 9:00 AM
Breakfast
9:00 AM to 12:00 PM
IPP (Self-Certification · Scan · Finishings 2.0)
12:00 PM to 1:00 PM
Lunch
1:00 PM to 4:00 PM
Imaging Device Security (Slides · Model)
There are several good hotels in the vicinity: Hotels near Apple
The following hotels are within walking distance of the main campus:
Cypress Hotel
10050 South DeAnza Boulevard
Cupertino, CA 950124
(408) 253-8900
http://www.thecypresshotel.com/
Cupertino Inn
10889 North DeAnza Blvd
Cupertino, CA 95014
(408) 996-7700
http://www.cupertinoinn.com/