February 2014 Face-to-Face Meeting
I. When/Where
The PWG meetings will be held on February 4-6, 2012, hosted by Samsung at their facilities in Irvine, CA:
18500 Von Karman Ave
Suite 800
Irvine, CA 92612
Overhead view of Samsung offices: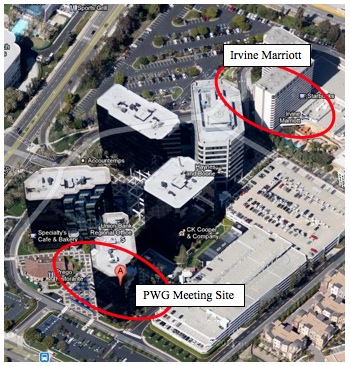 Parking for Samsung offices: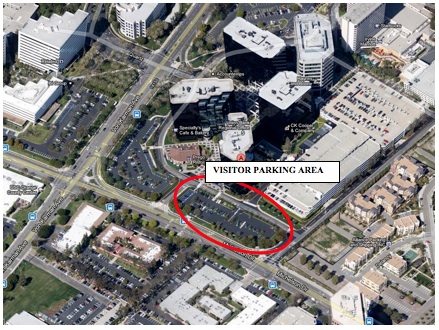 Wireless Internet connectivity will be available for these meetings. A light breakfast, lunch, and afternoon snack will be served.
II. Registration/RSVP
There is no meeting fee for this meeting.
Please respond to the PWG February 2014 face-to-face meeting survey whether you are planning to attend the meeting in person, by phone, or not at all. This will help us plan for network services and to make badges for the attendees.
III. For Those Unable to Travel
Conference Call Information
Call-in toll-free number (US/Canada): +1 866 469-3239
Call-in toll number (US/Canada): +1 650 429-3300
Call-in toll number (US/Canada): +1 408 856-9570
Attendee access code: (please contact the PWG Chair)
WebEx Information
To join the online meeting:
Go to

ieee-isto.webex.com

https://ieee-isto.webex.com/ieee-isto/j.php?ED=155025317&UID=0&PW=NMTk5ZDhiZjUw&RT=MiMxMQ%3D%3D
If requested, enter your name and email address.
If a password is required, enter the meeting password: Face2Face
Click "Join".
IV. Meeting Agenda
Note:

All times are local to the venue.

The second two mornings are joint meetings with the MFP Technical Community to continue development of a new Protection Profile for MFPs.

Discussions at PWG face-to-face meetings are covered by the PWG Policy on Intellectual Property and Confidentiality - basically everything we discuss is non-confidential and can be included in an open standard.
V. Hotel Information
Recommended Hotel (in the same complex)
Irvine Marriott
18000 Von Karman Avenue
Irvine, CA 92612
+1 949 553-0100
http://www.marriott.com/
hotels/
travel/
laxir-irvine-marriott/
Free shuttle bus provided between hotel and SNA airport
Other Nearby Hotels
Hyatt Regency Irvine
17900 Jamboree Road
Irvine, CA 92614
+1 949 975-1234
http://irvine.hyatt.com/
hyatt/
hotels-irvine/
index.jsp
Fairmont Newport Beach
4500 MacArthur Boulevard
Newport Beach, CA 92660
+1 949 476-2001
http://www.fairmont.com/
newport-beach/
Residence Inn Irvine
2855 Main Street
Irvine, CA 92614
+1 949 261-2020
http://www.marriott.com/
hotels/
travel/snaiv-residence-inn-irvine-
john-wayne-airport-orange-county
Radisson 4545 MacArthur Boulevard
Newport Beach, CA 92660
+1 949 833-0570
http://www.radisson.com/
newport-beach-hotel-ca-92660/
canewpor/
home