April 2015 Face-to-Face Meeting
This PWG meeting will be held on April 28 to March 1, hosted by Apple at their facilities in Sunnyvale, CA:
250 S. Mathilda Ave.
Sunnyvale, CA 95014
[map]
A light breakfast and lunch will be served each day.
All sessions will be held in the "Mountain Winery" conference room in the Mathilda 1 building. It is located just past the double doors beyond the vistor's desk in the lobby. The entrance is on the North (top) side of the building. A parking garage is located behind the building - all-day parking is available on levels 3 and 4.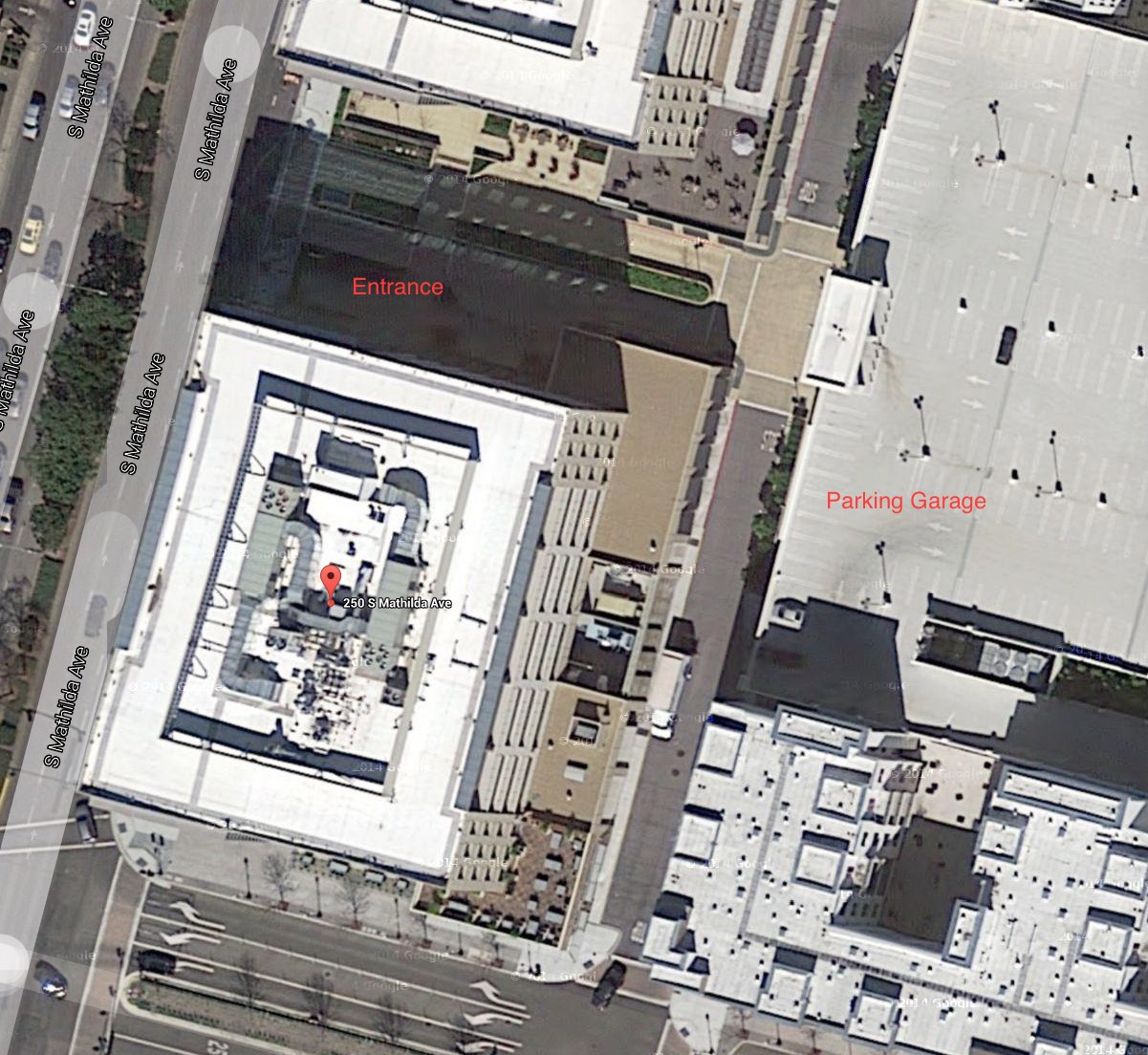 Directions from Highway 280:
Take the De Anza Blvd/Cupertino exit (#11). Turn left if coming from San Francisco or right from San Jose. Go North on De Anza Blvd. which turns into Sunnyvale-Saratoga Road.
Proceed on Sunnyvale-Saratoga Road past West Remington and take the left fork in the road which turns into South Mathilda Ave. Cross El Camino Real. Mathilda 1 is on the right at the corner of South Mathilda and West McKinley Avenue (the third intersection after crossing El Camino Real).
Turn right on McKinley and then take first left behind the building to enter the parking garage on the right.
Directions from Highway 101:
Take the Sunnyvale - Mathilda Ave. exit (#396). Cross over the train tracks and Central Expressway.
Turn left on West Washington Avenue (Nokia on corner) and then right at the first street behind Nokia. Proceed to parking garage entrance on left.
Parking:
Parking is restricted to four hours on the first two floors of the parking structure. Cars will be ticketed on first & second floors for going over the time limit and parking on the lines of parking space.
If you need all day parking, please proceed up the ramp at the back of the parking structure on the right and park on the 3rd and 4th levels. No hourly restrictions on either of these floors.
There is no registration fee for this meeting.
Please respond to the PWG April 2015 face-to-face meeting survey whether you are planning to attend the meeting in person, by phone, or not at all. This will help us plan for services and make any necessary reservations.
Conference Call Information
Call-in toll-free number (US/Canada): +1 866 469-3239
Call-in toll number (US/Canada): +1 650 429-3300
Call-in toll number (US/Canada): +1 408 856-9570
Attendee access code: (by request only)
WebEx Information
To join the online meeting:
If requested, enter your name and email address.
If a password is required, enter the meeting password: Printing123
Click "Join".
Note:

All times are local to the venue.

Discussions at PWG face-to-face meetings are covered by the PWG Policy on Intellectual Property and Confidentiality - basically everything we discuss is non-confidential and can be included in an open standard.
Date
Times
Description
April 28
8:30 AM to 9:00 AM
Breakfast
9:00 AM to 10:15 AM
PWG Plenary (Slides)
10:15 AM to 10:30 AM
Break
10:30 AM to 12:00 PM
3D Printing BOF (Slides · IPP3D)
12:00 PM to 1:00 PM
Lunch
1:00 PM to 2:00 PM
OpenPrinting Plenary (Slides · Projects)
2:00 PM to 2:45 PM
CUPS Plenary (Slides)
2:45 PM to 3:00 PM
Break
3:00 PM to 4:00 PM
OpenPrinting - Status of Ghostscript/MuPDF (Slides)
4:00 PM to 4:30 PM
OpenPrinting - Printing Experience in Enterprise World (Slides)
4:30 PM to 5:00 PM
OpenPrinting - The Security, Scalability, and User Experience of Cloud Printing (Slides)
April 29
8:30 AM to 9:00 AM
Breakfast
9:00 AM to 10:45 AM
Semantic Model - JDFMAP (Slides · JDFMAP)
10:45 AM to 11:00 AM
Break
11:00 AM to 12:00 PM
Cloud Imaging Model (Slides · Model · Comments)
12:00 PM to 1:00 PM
Lunch
1:00 PM to 2:00 PM
Semantic Model - Cloud, IDS, and Notifications
2:00 PM to 2:30 PM
Semantic Model - Imaging Job Ticket
2:30 PM to 2:45 PM
Break
2:45 PM to 5:00 PM
IPP - Status, INFRA, and IG (Slides · INFRA · Comments · Implementor's Guide)
April 30
8:30 AM to 9:00 AM
Breakfast
9:00 AM to 12:00 PM
IPP - SYSTEM, SELFCERT (SYSTEM · SELFCERT)
12:00 PM to 1:00 PM
Lunch
1:00 PM to 2:00 PM
IPP - IETF IPP/1.1 (RFC2910bis · RFC2911bis)
2:00 PM to 3:00 PM
IPP - IEEE IPP/2.0 (IPP/2.0)
3:00 PM to 3:15 PM
Break
3:15 PM to 4:30 PM
IPP - Proposals and Next Steps
May 1
8:30 AM to 9:00 AM
Breakfast
9:00 AM to 12:00 PM
Imaging Device Security (Slides · MFP PP TC · IDS-MOD · HCD-TNC · Password Policies)
There are several good hotels in the vicinity: Hotels near Apple