PWG August 2009 F2F Meeting
I. When/Where
The PWG F2F meeting will be held on August, 17-20, 2009 at Microsoft in Redmond WA (Seattle WA area)
Address:
Microsoft Campus
Building 85
4634 154 Pl NE,
Redmond, WA, 98054
Please arrive at building 85 lobby and pick up your visitor badge at the reception.
You will also need to register your vehicle by providing the license plate, make
and model information. Either Mike or Jane will be there to greet you and escort
you to the meeting room.
Directions to the building:
If you are coming from 520, take NE 40th exit. Make a left onto 156th Ave NE.
At the next light, make another left. The parking garage entrance will be on the right after the 1st Stop sign.

.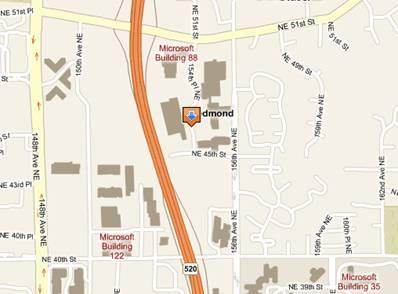 Registration
There is no meeting fee for this meeting, there is, however a registration process.

To register for the event please email PrintReg@microsoft.com
In your registration mail, please specify which days you plan to attend (Tuesday, Wednesday, Thursday)
Breakfast and lunch will be provided on Microsoft campus. If you have any dietary restrictions, please
include that information in your registration mail.
II. For those unable to travel

Conference call information:
Call-in toll-free number (US/Canada): 1-866-469-3239
Call-in toll number (US/Canada): 1-650-429-3300
Call-in toll number (US/Canada): 1-408-856-9570
Attendee access code: (by request only)
III. Detailed Meeting Agenda:

All times are local to the venue (PDT)
Meeting Slides

Meeting Minutes

Mon. 08/17

1:00 PM

5:00 PM

IDS

Meeting with Microsoft NAP team

Tues. 08/18

8:30 AM

11:30 AM

IDS

11:30 AM

12:30 PM

Lunch

12:30 PM

2:30 PM

IDS

2:30 PM

5:00 PM

IPP

Meeting Slides

Wed. 08/19

8:30 AM

12:00 PM

WIMS/CIM

12:00 PM

1:00 PM

Lunch

1:00 PM

2:00 PM

Plenary

2:00 PM

5:00 PM

MFD

Thurs. 08/20

9:00 AM

12:00 PM

MFD
IV. Hotel information for the August 2009 PWG meetings:
There are no hotel arrangements for this meeting. (attendees are on their own)
Here are a couple of hotel recommendations for nearby hotels that offer a Microsoft discount.
Note, these rates are not guaranteed so please ask about Microsoft special when making a reservation.

REDMOND INN
Rate $119 (USD) per night
http://redmondinn.com
17601 REDMOND WAY
REDMOND
WA 98052
UNITED STATES
Phone: 1-425-8834900
Fax: 1-425-8695838

SILVER CLOUD INN REDMOND
Rate $125 (USD) per night
http://www.silvercloud.com
2122 152ND AVENUE NE
REDMOND
WA 98052
UNITED STATES
Phone: 1-425-7468200
Fax: 1-981-7472078

RESIDENCE INN SEATTLE EAST/REDMOND
Rate $134 (USD) per night
http://marriott.com/seard
7575 164TH AVE. N.E
REDMOND
WA 98052
UNITED STATES
Phone: 1-425-497-9226
Fax: 1-425-497-1909

MARRIOTT REDMOND TOWN CENTER
Rate $159 (USD) per night
http://marriott.com/seamc
7401 164TH AVENUE
REDMOND
WA 98052
UNITED STATES
Phone: 1-425-498-4000
Fax: 1-425-556-1231

RED LION HOTEL BELLEVUE (FORMERLY BEST WESTERN BELLEVUE INN)
Rate $99 (USD) per night
http://www.redlion.com
11211 MAIN STREET
BELLEVUE
WA 98004
UNITED STATES
Phone: 1-1-4555240
Fax: 1-425-4550654

Additional Information:
If you have any questions, or require any assistance please email PrintReg@microsoft.com